Search results:

Set of spanish trains for passengers and freight. Currently under developement, new versions updated when available. Taster version still lacks accurate technical data (prices, HP, etc.) and most of the freight cars.

Modified parameters of the ships - they are much larger and appropriately more expensive.

Their parameters are:

Small tanker: 10 000 000 liters of oil
Large tanker: 22 000 000 liters of oil

Small cargo ship: 6000 tons of cargo
Large cargo ship: 15000 tons of cargo

Small ferry: 500 passengers
Large ferry: 800 passengers
Hovercraft: 160 passengers

This NewGRF adds a Vacuum Tube railtype, and matching trains, to OpenTTD. The vacuum, combined with maglev technology, enables a frictionless environment in which trains are able to reach extremely high speeds. Coded in NML by Emperor Jake, track and tube graphics mainly by Zephyris, train graphics by Emperor Jake. Copyright 2011, released under GPLv3.


Lifted tracks only show ballast and can be used to keep your old and disused rail lines visible in the landscape. The planning tracks allow plotting new rail lines. Both railtypes do not allow vehicles.

Requires OpenTTD 1.2.0 (r23166). OpenTTD 1.3.0 (r24367) recommended.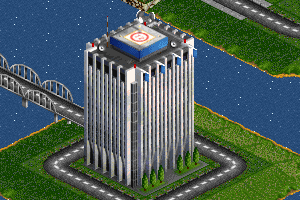 Replacement for the final company headquarters, with heliport, flags and antennas at the top. From TTD Urban Renewal.
Found 5 grfs that match in the database
Your query (strike=found}:
2D480107, 414E0201, 415A1001,
425F0101, 43485053,
444A5901, 444A5903, 454E2001,
45530101, 45530301, 46455645, 4A4B0104,
4D430211, 4E474C56, 4E4D0325, 50430901, 5043C011, 504A5143,
52577801, 54473133, 54474E33, 544D0101, F1250007, FBFB0010,
FBFB0A01,
Powered by GRF Crawler 1.01 © 2004-2009 eis_os