Search results:

Modified parameters of the ships - they are much larger and appropriately more expensive.

Their parameters are:

Small tanker: 10 000 000 liters of oil
Large tanker: 22 000 000 liters of oil

Small cargo ship: 6000 tons of cargo
Large cargo ship: 15000 tons of cargo

Small ferry: 500 passengers
Large ferry: 800 passengers
Hovercraft: 160 passengers

The North American Renewal Set v2. A complete company-coloured train set from 1850 to 2050, with running sounds, animated steam locos, regearable diesels and much more.

6 cars for 1920 to 2050, replacing the default buses (IDs 00 to 05), in dual company colours.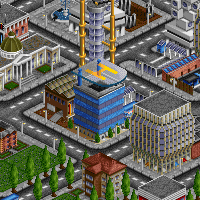 Replacement for the default heliport, features semi-transparent landing platform.

River boats, lake ships and coasters in a range of attractive sizes.

Features lickable pixels in two company colours.

[OpenTTD only]
Found 5 grfs that match in the database
Your query (strike=found}:
414E0101, 425F0101,
43415000, 44440302, 444410C1, 444E0700,
48500107, 4A4D0101, 4B4B1101, 4F472B32,
52530102, 52571203, 52571208,
Powered by GRF Crawler 1.01 © 2004-2009 eis_os